So when deciding what we wanted to be for Halloween, my boyfriend told me he always goes as a superhero, comic book character, or something else "geek-themed." Now, I've never been the biggest Star Wars fan, but I proposed the idea of Princess Leia and Han Solo, and he was sold immediately.
When we went to the store, I was less than impressed with the Slave Leia costume they had. The top for it was absolutely terrible, and wasn't even tie-on like a bathing suit. It was all held together with two tiny pieces of velcro in the back. Not. Gunna. Cut it.
That was when I realized I could probably put together a much nicer costume for the same price or cheaper. And so began Princess Lizi and Sean Solo. (Please ignore the soldier in both pictures. He's a friend of ours, and I couldn't find a picture of Sean and I together.)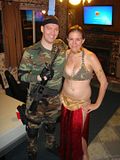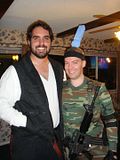 On to the fun bits. What did I make? If you look at the side of Sean's leg, you will see and red and black stripe running down it. That was red ribbon I sewed on by hand, then went over meticulously with black Sharpie to make the stripes. I don't recommend it, especially if your boy is over 6' like mine is (6'4"). The rest of his costume was pieced together with bought/already owned items.
My costume took a lot more time. The green bikini top with the gold hoops I already owned. I hand-sewed all of the gold ribbon onto it.
I made the necklace with a thick ribbon-type fabric, sewed on a d-ring, and attached a light-weight chain. The necklace is held on with a couple velcro dots. There was also a matching cuff on the wrist you can't see (another velcro dot to hold it on, no d-ring or chain, though). The arm band was a piece of ribbon tied on.
The skirt is the masterpiece. First I took a piece of inch-thick elastic, and stretched it tightly around my waist, sewing it together into a waistband. Then I took the red fabric (2.5 or 3 yards, I can't remember) and draped it across the elastic, pinning it so that it formed a pair of panties with the elastic as the waistband, and hung down over the front and back to make the skirt. Then I just sewed across real quick to hold it on (the only part I used a sewing machine for. All the rest was hand-sewn). After that I got two giant mixing bowls from the kitchen and made circles out of the gold fabric, cut them in half, basically, and sewed them on, one in front and one in back. Two gold buttons in the front. Lots of gold ribbon sewn around the edges of the gold, and across the elastic that showed on the side. And, voila! Princess Leia and Han Solo!
I finished my costume in about 3 days (I was VERY motivated), and Sean's pants took me another 2. When all was said and done, everyone LOVED our costumes, and were impressed that we'd done it for so cheap.
Princess Leia costume in the store: $45 + tax
Custom-made Princess Leia costume: $40