Here is a picture of the guinea pig cozy I made for my pigs.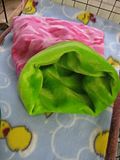 I was worried that they wouldn't know how to use it. I left for like 2 minutes, and when I came back, Bidoof had claimed it for herself.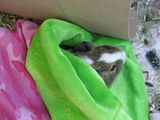 Bonus? I already had the fabric, so this was free!
My sewing machine doesn't like me, so I ended up having to sew part of it by hand. I'm very proud of it, though.
C&C welcome!