I've gotten the most wonderful package today, and I'd scream a lot about it now except they're demanding me to be on Ventrilo for a guild meeting in WoW while I'm typing this... Didn't get an answer about whether I can avoid actually logging on, so I'm pretending that's okay... but lots of talking in my head!
Anyway, to the point
I LOVE everything and I have about as big a crush on crafty_karen1 as I do on my boyfriend right now, because this is all so... perfect.
This is the book I got, and actually one I was hoping for from our discussions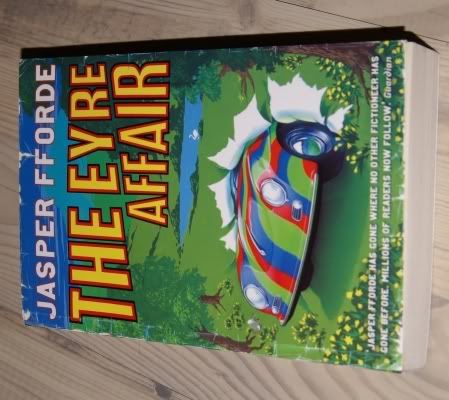 Together with this I got this dreamy bookmark, a beautiful cross stitch design which is exactly to my taste. The feel of it is what I tend to describe as "feels like rain", the same thing I like in Gaiman's books, and so on

She also embroidered this beautiful dragon and attached it to this wonderful notebook
I want to put it on my wall on display, the entire notebook, but I guess I'll have to learn to use notebooks instead of being afraid of using them for things that aren't worthy
Last craft, but not the least, are these wonderful dodo notecards! Unfortunately two corner flowers fell off the "top" card of the stack, it's standing in the back here, but it's still beautiful. She says it's the only craft related to the contents of the book, and I'm very curious to find out what it is
Last book I read that mentioned a Dodo was the first of the Dirk Gently books, and I adored that one, so just Dodos existing in this book excites me as to see how come!
AND she included a craft magazine for me!
It's really fun, I haven't read it but I've leafed through it very thoroughly
And she says this is just the first package o_O She must be insane. So now I'm thinking that since she says she doesn't have a lot of crafting experience outside embroidery and paper crafts, I hope what I send will suffice from sheer "she's not used to doing that craft herself"
Ok, this was probably a way too long post, and not long enough to justify what I got, because I'm trying to listen to our bozz on ventrilo, but I think I got my major point across:
I completely adore everything I've gotten.