Class: Charms
House: Ravenclaw
Project Name: Water, Water, Everywhere
While I was waiting for more materials for my arithmancy project to arrive by post, I started toying around with my Charms homework. My favorite way to take water is to first make it hot and let tea leaves steep in it, so I thought I would make a cosy for my tea press out of this yarn whose color reminds me of water. (Moda Dea Cartwheel in Sea Blues.) I made the pattern up as I went. I hoped when I started it would look a bit like a stylized waterdrop. That didn't work out, but I'm happy with it.
However, while I was working on it things went a little Fantasia-ish, in that it occurred to me that I needed other watery kitchen stuff. For starters, other people had gotten all but a couple of the scrubbies/tawashi I made a year or two back. So I made a pile just for me.
I only meant to make two or three, but they're mildly addictive so I had to stop myself at eight. I also did two mint tawashi I haven't seamed up yet; other people got ALL the mint tawashi I made before.
Then it occurred to me I still didn't have one of those handy-dandy button loop towels for drying my hands. So I made a solid blue one with a crocheted top, then two fishy-print ones with knit tops. All three toppers were made up as I went. Conclusion: I'm still bad at crocheting back and forth, and I think if I ever make these again I'll make sewn toppers.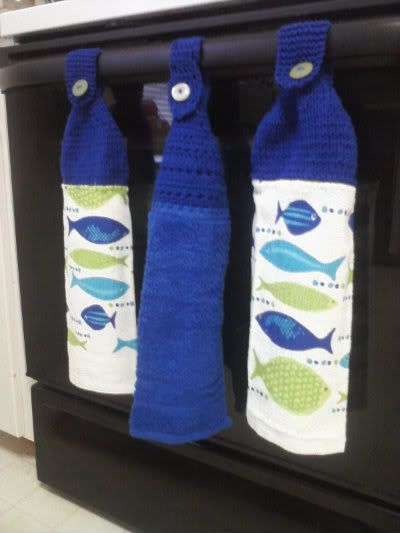 Also, tea cosies are fun and I want to make more.