Class/Challenge/House Pride: Arithmancy
House: Ravenclaw
Project Name: Fibonacci-striped Square
Project Page Link (if available): n/a
Brief Description: I used the Fibonacci sequence to select how many stripes of each color to use on my small afghan. I found this Gryffindor colors Jiffy Lion Brand (how apropos!) yarn in a thrift store ages ago, finally decided it wanted to be a back-of-the-couch afghan this winter, and finally made it this summer. I ran out of gold yarn on the last set of stripes and, multiple trips to stores later, discovered the gold color had been added to the clearance section of LB's website; anyone who wants any should buy it now.
Project Picture: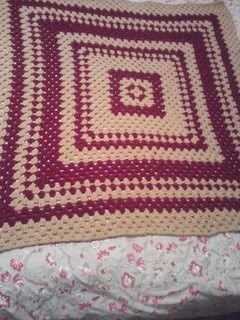 Class/Challenge/House Pride: Potions
House: Ravenclaw
Project Name: A Timely Reminder
Project Page Link: n/a
Brief Description: Medievals liked to make pictures with a "memento mori" (remember you will die) lesson to them. I figure moderns could use the reminder too, but I'm not much of an artist. I made
memento mori
sachets stuffed with dried rosemary from my (now dead!) rosemary bush; rosemary is for remembrance, according to Shakespeare, old herbals, and some modern research.
Project Picture:
The back of the sachets have another reminder.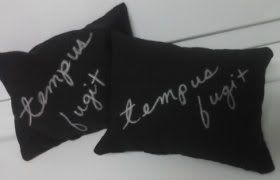 Class/Challenge/House Pride: Divination
House: Ravenclaw
Project Name: Bad Omen/Good Omen
Project Page Link (if available): n/a
Brief Description: I wasn't going to do anything for Divination, but then I got interested in the wording of the assignment--a good or bad omen. I assume it meant one or the other, but I got interested in the idea of something that could be both. And I thought of crosses and crucifixes. They were originally a device of tortuous execution and the object of horror and shame, because of the pain, death, and criminality they would be associated with. But under Christian thinking they became associated with good, because Christians believe that a particular death on a cross became the pathway to life--that the worst thing that could possibly happen (God took on human flesh and humans brutally murdered him) became the best thing that could happen. Since then crosses and crucifixes have taken on cultural associations with goodness, such as the power to turn back vampires in classic horror fiction.
I made a purple bookmarks (purple has an association with Jesus' Passion in Catholic culture), one with a cross and one with a crucifix. (The cross one was a gift to departing co-worker and earned me a hug!) I also made a purple cord dangling crucifix for my rearview window, sort of an alternative to the more common looped over rosary.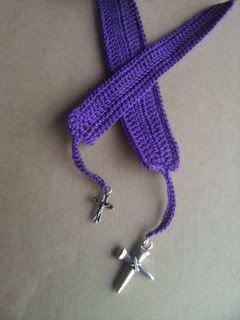 Project Picture: