Hello craftsters! I took some thrift store sweatpants and turned them into some sort of skinny jeans. the before looked like this:
http://fleecefarm.com/images/medium/purplesweatpants_MED.jpg
I made them tighter and added a fly and some back pockets. The fly was tricky, because I've never done one before, and the pants were already made, so I basically had to figure out how to put a zipper in without it showing. I left the elastic waistband in because all my real jeans have really bigs waists (big enough that belts don't even help that much). [EDIT(I forgot to mention...)]These were made with these
http://www.craftster.org/forum/index.php?topic=231826.0
in the back of my mind.
so here they are: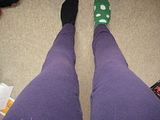 Back pocket:
The fly. It looks a bit weird from this angle, and the stitches sort of half-disappeared into the fabric.
Sort of side view:
and the bottom:
Thank you for looking!