I got really into Star Trek this summer. As in, watched a season of TOS in just over 2 days before realizing that hey, I should probably take a break from Netflix. At which point I dug into my stash and whipped up a Spock, complete with ears and eyebrows.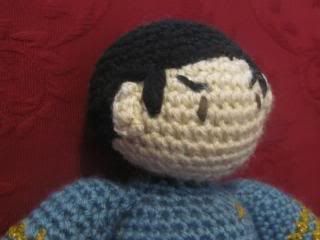 And then, because clearly one Spock isn't enough, I made a second based on the uniforms from the recent reboot movies.
And obviously, Spock needs a Kirk...
I had no idea what color Shatner's eyes were so, on the advice of family members, I went with blue/green. I think they're actually a bit more brown but oh well. Other note, I don't think these are exactly the right stripes on the sleeves (at least in TOS I think the second stripe is actually dashes and not solid??) but oh well it's close enough for me
Technical details: Pattern is my own design, but it's sort of a "basic" amigurumi pattern. Ball for head, tubes for arms, oval body, etc. The feet are ovals with decreases to sort of curl the ends up into a shoe design, that I swear I crocheted differently every time I made a new plushie
Spock's ears are [sc, hdc, dc] into a magic circle, two of those sewn together and then sewn to his head. His sideburns and eyebrows are ridiculous to get even but they're sewn on too. Everything crocheted with acrylic, RHSS for most of it and Vanna's Choice for the TOS shirts, because I am cheap. No idea what the metallic yarn is off the top of my head, sorry. Finished dolls are about 9" sitting.
And I think that's everything! Thanks for looking!