here is a super simple project to recycle glass jars...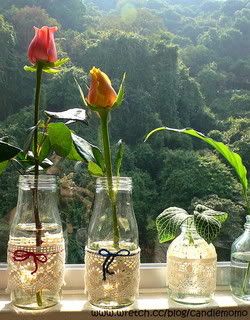 1. collect and wash glass jars (ok, cut the bs...)
2. wrap a length of wide lace trim around the belly of the jar
3. use double-sided tape to stick down the slightly overlap area of the trim at the back of the jar
4. use a needle to thread a piece of colored yarn through the top of the trim and finish off by tieing a bow
wah-la!! finish!! isn't that a piece of cake!?!?
now put in your freshly cut flowers or leaves and enjoy!!