OK, not sure if this goes here, but i didn't know where else to put it.
So my daughter has been under the weather so i decided to make her a blanket. She has a strawberry shortcake doll that she adores ~ i have to get a new one bc i had to wash this one and she doesn't giggle anymore
Anyway, i was in hobby lobby looking at the $1.99 simplicity patterns and looked at all of the fabrics. Finally i found one we could agree on (shes almost 2 and kept pushing the fabrics away, except for 2- and one of those didn't have any binding to match)
So this is what i came up with:
zoomed out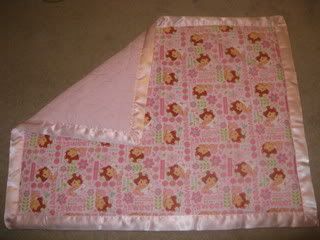 zoomed in: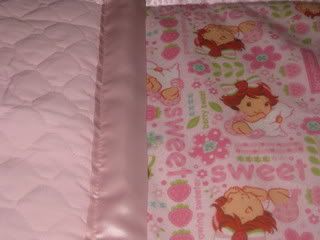 i didn't zoom in any more because my stitching was really shoddy. But she is only 2, so when i get better i will restitch lol.
I've got scraps leftover so i think i will make her a mini version of this so that she has something to carry around- i'd rather this than the washcloth (don't worry its clean!) that has suddenly become a "blankie" lol!
This was also my first semi quilting fabric as i have the quilt type backing plus batting between the layers! Yeah- i was seriously wishing for a walking foot for my machine, but wasn't about to put down $25
for one
So what do you think? Don't be cruel! lol