I bought a cute little suitcase for $1 at the thrift store and turned it into this...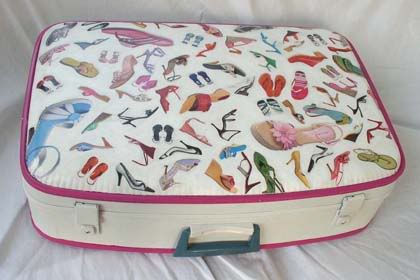 I painted the suitcase with white spray paint made for plastic (and then painted the trim with hot pink acryllic paint). I cut out various styles of shoes from fashion magazines and catalogs making sure to either trim all of the background out or select ones with a white background. I decoupaged the shoes on with Elmers and water and then gave it a coat of clear polyurethane spray paint.
I love the results but I'm afraid to use it as an actual travel suitcase because I don't want to ruin it. I think I'm just going to use it to store items in my house where I can admire it's beauty.