Third and (possibly final) shadow box game in this series, all of which are inspired by
Newsies
. This is my most complex box to date as I had to almost completely dismantle and re-design it, because my first attempt needed some adjustments that didn't become apparent until I'd gotten the thing all assembled and found out that the small margins of error were just enough to make it not work properly.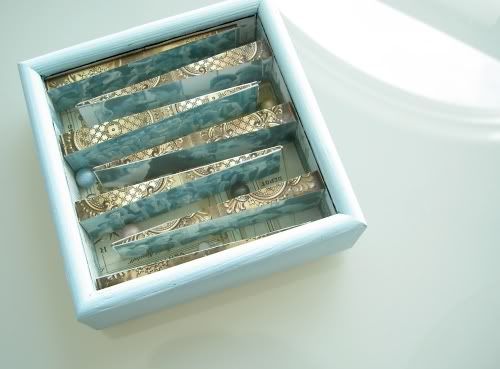 Anyway, this box can be played in two modes, one of which is a game (since it has a goal) and the other simply a desktop toy. It's named for "Carrying the Banner," the first big musical number in the movie. (If you're not familiar with the song, it's a cheerfully cynical rundown of penniless life in 1899 New York.)
The first involves, similar to my previous games, tilting the box to maneuver the marbles. This time the ground is a collage of pieces from an 1899 map of Manhattan. There are four wooden marbles and four recessed spots in the map, each corresponding to one of the major locations listed in the song: City Hall, 44th and Second, Grand Central, and Central Park, arranged in rough geographic sequence from downtown to uptown. The object is to roll the marbles along the narrow paths to get a marble into each spot.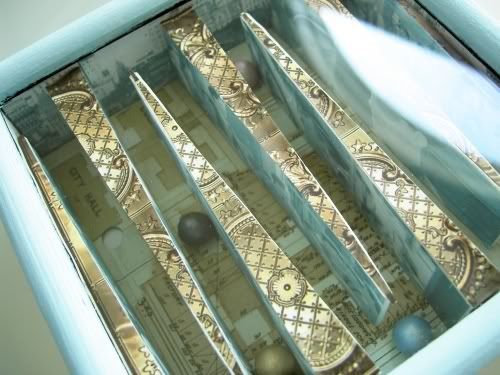 But if I'm bored with that and want to let the marbles do their own thing, I can play it in the second mode. Standing the box on end turns it into a marble run and they'll roll down the gentle zigzag ramps to the bottom. (Here's where the shadow box's glass top really comes in handy. Plus you can see my camera!) I can flip it over and do it again and again, like an hourglass.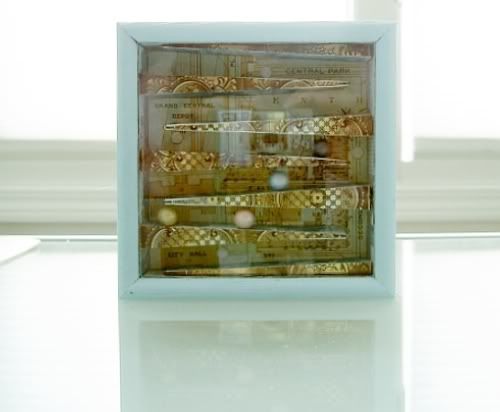 Scenes from the movie are on the sides of the ramps. The flat tops of each pair of ramps has a pattern from a reproduction Victorian tin ceiling. The box's inside walls are covered with a 1900 panorama of Manhattan.
I lined the back of the base with sandstone-colored felt.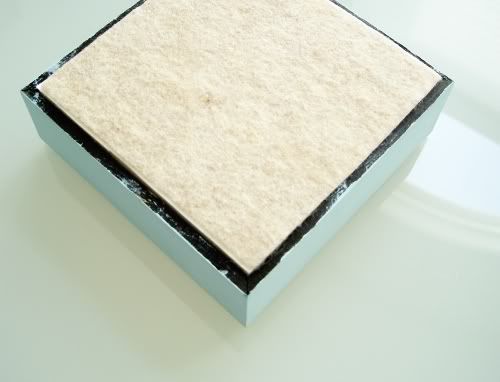 Two interesting historical bits I learned while putting this box together:
1. Some of you who know the song may be wondering, why leave out the most obvious location: Bottle Alley? The fact is that by 1899, despite what the lyrics say, Bottle Alley was no more. Between 1895 and 1897 it was razed, along with the surrounding neighborhood, and turned into Mulberry Bend Park (Columbus Park today).
2. Corner of 44th and Second is none other than the location of one of the newsboys' lodging houses in 1899. I've known about the existence of this lodging house for a long while and it probably should've clicked much sooner since I maintain an
entire website
on this sort of thing, but I never made the connection between the lodging house and the lyrics until now! If you look close, you can see it on the map.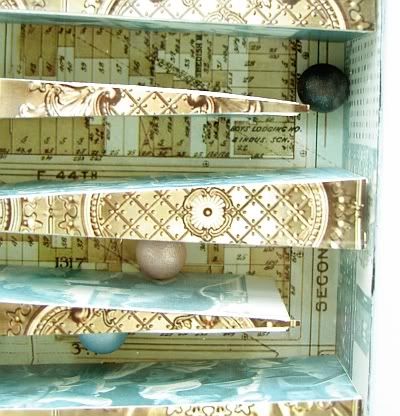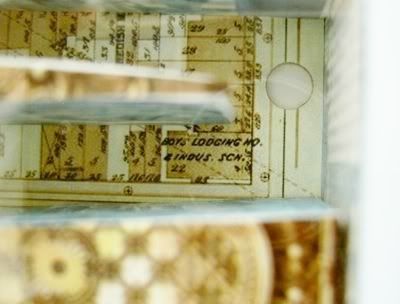 All three games in the series together: