I claim the decorative chalks please!
I live in Fargo, ND. I have no allergens in my home!
Claims Allowed (Outstanding): 3
Claims made so far: 1
Sendouts Not Sent: 1
Sendouts Sent: 0
Sendouts Received: 0
Here are my offerings!
Choose One!
The software is included. This is a neat book with some cute patterns if you own a sewing machine, but I don't.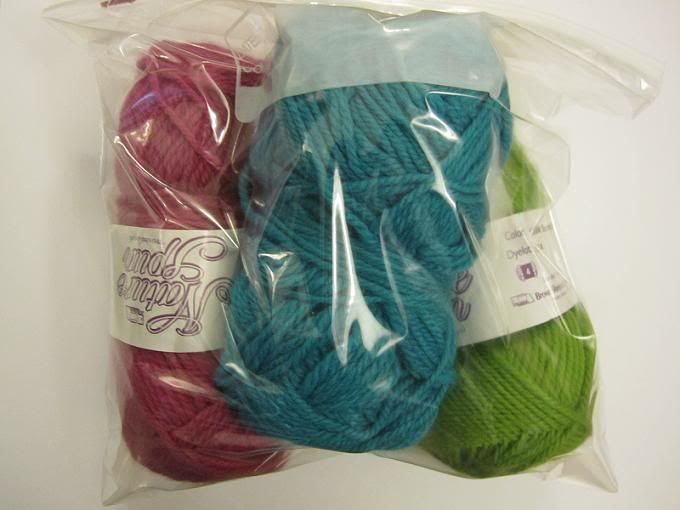 3 partial skeins of Brown Sheep Nature Spun 100% wool yarn. There's plenty here to make a matching hat and scarf set, or whatever you like!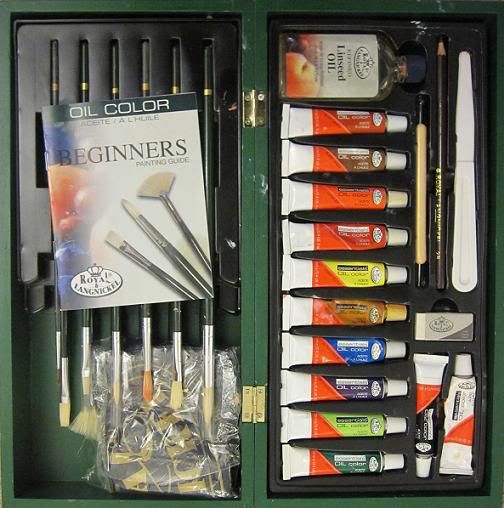 This oil painting starter set is complete. There is an apron, several paint brushes, paint, linseed oil, a pencil and eraser, a book, and some other stuff. Most, BUT NOT ALL, of the tubes are full. All of the tubes have paint in them, but a couple have been used.
Choose Two!
These are two partial skeins of Bristol Yarn Gallery Lyndon Hill fingering weight yarn. They were spun into yarn cakes with my ball winder. The larger skein is unused, the smaller skein was used and rewound. This yarn is 85% Pima cotton and 15% silk. Lovely!
This is a set of Egyptian stamps. The set is complete. All the stamps have been tried once. They come with a turquoise stamp pad and a book explaining what each god stands for. A small piece chipped off of the front of the Bastet stamp holder, but it has been glued back on with Gorilla Glue and in no way effects the grip on the stamps, as it is magnetic.
Claimed by JessySihk! Thanks!
This set of oil paints is brand new and never opened!
Claimed by JessySihk! Thanks!
This is a complete set of 50 Crayola markers, some of them scented! All markers are in great working order.
Choose Three!
I embroidered this. It was my first attempt for the Embroidery Hoopla Swap Rd. 2 but I didn't like how it came out. Maybe you do! Split stitch and crayon tinting. Use it as a patch or whatever!
This is a mostly full bottle of embossing powder. I only used a small amount to see if I could coat my Shrinky Dink jewelry with it but I found something even better and easier to use for that purpose. My loss is your gain! It's clear, by the way.
A needle felted bird, only my second attempt at needle felting!
Some buttons! Two hot pink and an unopened package of heart shaped ones. The heart ones are pretty tiny!
This is a nostepind. It's used for winding yarn if you have lots and lots and LOTS of patience. I do not.
Here's a brand new package of bias tape!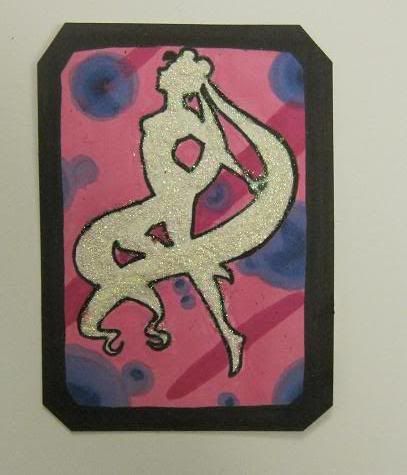 This Sailor Moon henshin ATC was my first attempt at ATCs. As such, it's pretty simplified, but it sparkles!
I made this kusudama with pages from a road atlas. Great decor for a travel or worldly themed room!