I could put together a little kit of different colored wools/fibers for your doll heads, for sure!
I have been running around like a crazy lady all day nesting. My poor husband. I keep making him get up and lift heavy things for me
Just finishing up buttons of baby vest I finished last week after TOTALLY gutting the last remaining mess in the nursery, adding some decoration stuff, doing a load of laundry and taking MORE stash busting pix for my shop (added hair clips, jewelry and button bobby pins) Keeping the prices low to MOVE. Help me make room for baby!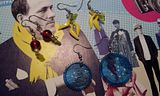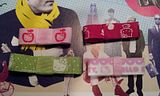 and here is the vest I made:
OH! I have a cheese-making kit too...Any takers?