Hi everyone.
My mum and I have been showing my Aunty Barb how to make simple drawstring library bags to give to her grand children. She wants to fill them with books and goodies. A great kids present, even for holding toys to go to grandma's or for taking a change of clothes or swimmers. These are always great to use instead of wrapping paper too for birthdays, easter and christmas. Anyhow ......
Here is the bag we made this weekend.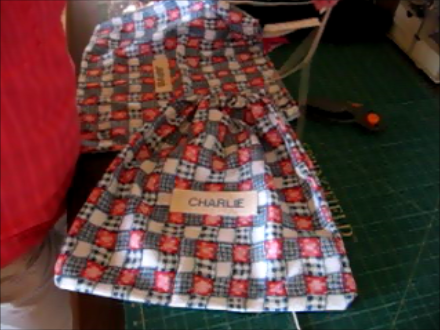 Sewing a simple drawstring tote tutorial (for personal use, or for making bags to sell please dont sell this tutorial just redirect it here for people to share for free
)
1. Cut 2 squares 17 inches by 17 inches. optional applique a design or name tag.
2 Use an overlocker to finish top edge and serge sides and bottom of bag. I f you dont have a serger you could think about lining the bag or doing french seams or straight stitch then zigzag seams to stop fraying.
3. Press bag and press top opening edge down about an inch to form a simple casing for your drawstring.
4. Sew this casing down ensuring you leave an opening at the side seam for the cord to fit.
5. Use a safety pin or bobbin to thread the cord through the casing, knot off, heat seal the cord to stop fraying if you want.
Its quick and easy. If you need any further help I have a quick video up on yt. Just follow my link in my signature. I am a visual learner so find videos much easier.
thanks for looking and feedback is always welcome.
I hope to see what you all come up with.
I am thinking to make some for easter that my boys can use to store stuff in.