This is quite a step-up from the previous project I posted on this board! I recently participated in the Creepy Cute Stuffie Swap, and my partner said she liked creepy mermaids, so I decided to craft her a zombie mermaid.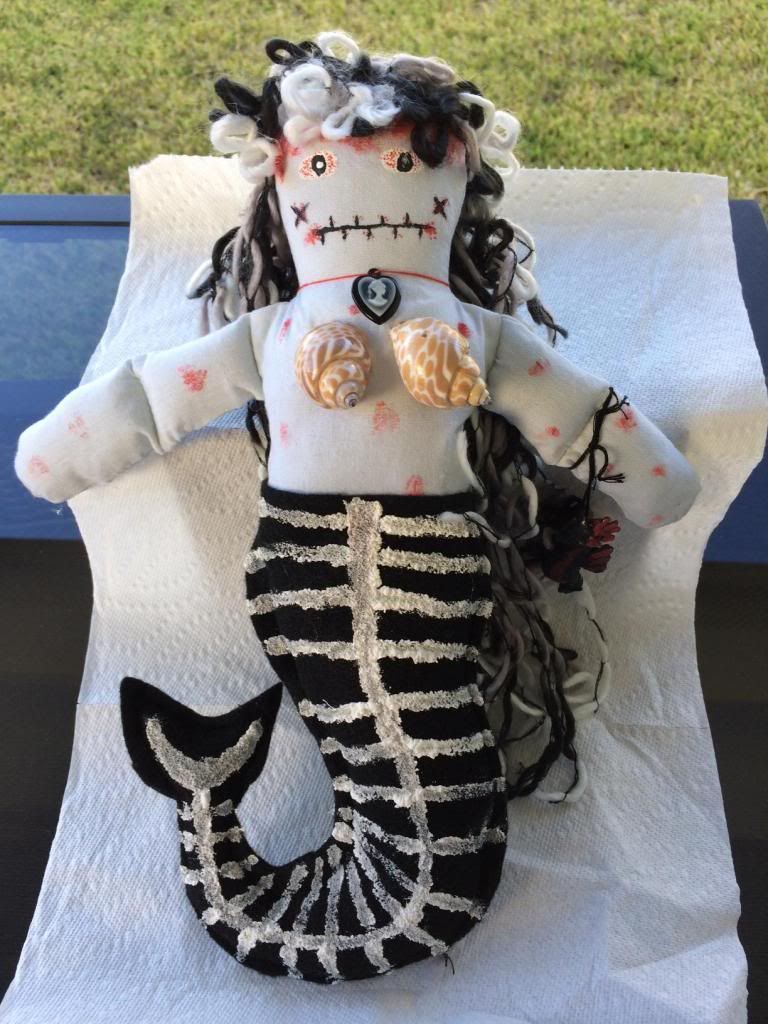 Initially, I tried to draft a pattern for the entire thing by hand, but having never even made a doll before, that was a bit beyond my skill set. Thankfully, I found a $3 blank stuffed doll form at Joanns, which even had the bonus of being that perfect zombie un-dead gray! So I chopped off the legs, and used that for the upper body. With a good base for the torso, I was then able to draft a decently-shaped pattern for the tail.
Two pieces of black felt, machine-sewn together and stuffed with poly fill from the bottom up as I went along. I intentionally cut the top of the tail a little wider than the waist of the doll, and after the torso was glued into the tail, I hot glued the over-wide edges of the tail to the backside to create the effect of her wider hips and narrower waist. The tailbones were all painted on with white fabric paint -- which I did not realize had a velveteen effect, so when I used a blow dryer on the paint to speed up the drying, the paint actually started to bubble up. It was a happy accident, though, as I think it adds some interesting texture.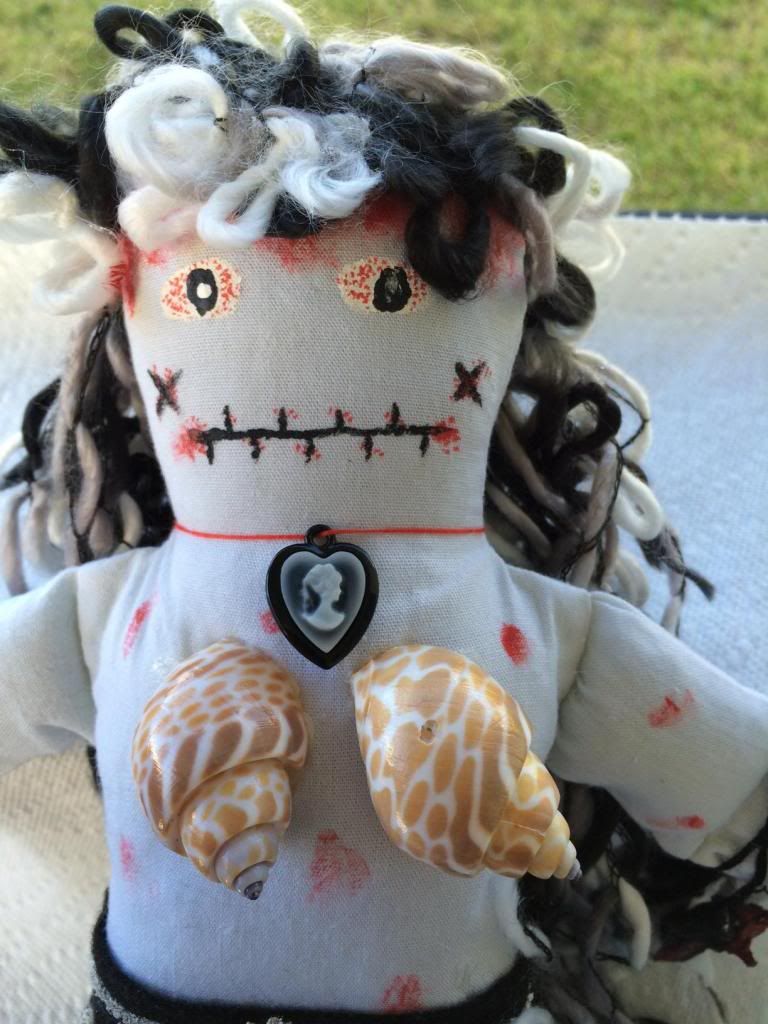 I figured that crafting her chest would be difficult, so I went with the requisite mermaid shell-bra, hot-glued on. My friends and I had a good laugh over her Madonna-esque cones. The face and scratches were all painted on using black and white fabric paint, and a Tim Holtz brand red distress paint for paper crafting (which I figured would be more subtle, and I think it was. It actually comes in a dauber, so I had to daub it onto a paper plate to be able to get some on my brush). I wish I had taken a little more care into how I had applied the scratches (they look more like pus sores than wounds to me, but I guess that works too). Her little cameo was purchased at Joann -- I was hoping to make a skull one, but based on the time I had and supplies I was able to find, this ended up being the best option. So, it is the mermaid's treasure, recovered from a shipwreck at the bottom of the ocean.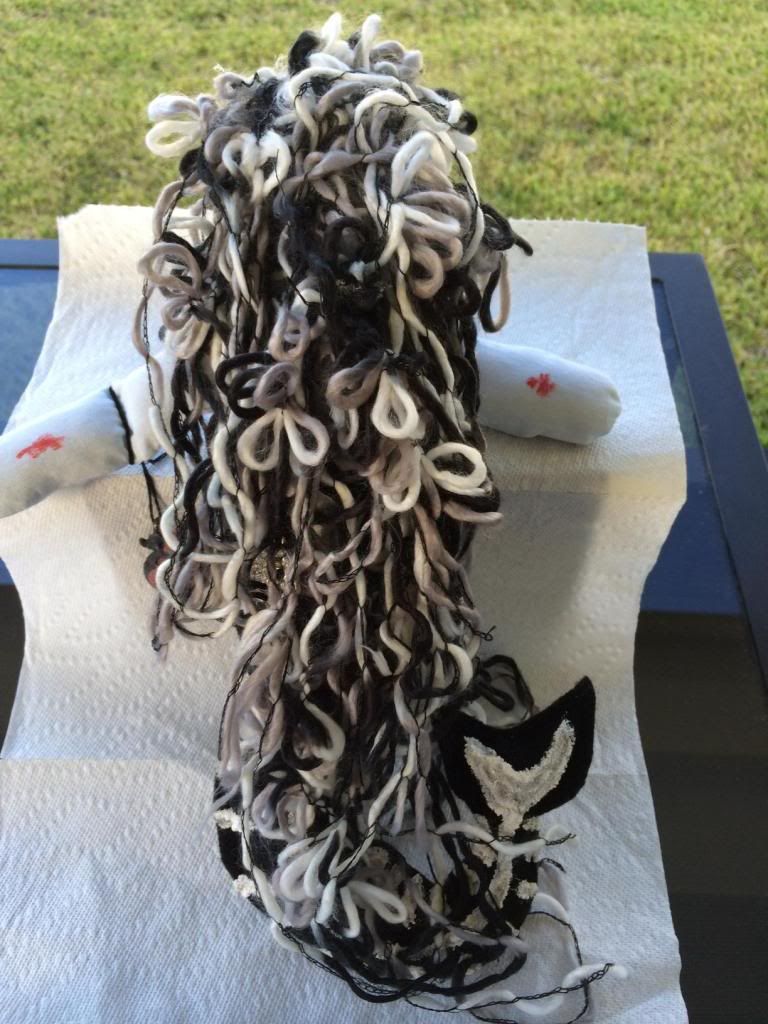 My absolute favorite part of the doll, however, is her ridiculously-long hair. I had already figured I would end up using yarn for the hair, but when I saw this one at the craft store, I knew it would be perfect. The black, white and gray colors say "zombie" to me, and it was all knotted in weird places, which really helped to add a lot of volume. Originally, I was just going to start gluing long strands of yarn to the top of her head, but my best friend wisely advised me to create a base for a wig, using a teardrop-shaped piece of black felt. That way, I could more easily create a part, instead of having hair hanging down in the doll's face, and it worked really well. I still managed to almost permanently lose the use of a couple fingers to the hot glue gun... but, y'know. Crafting problems.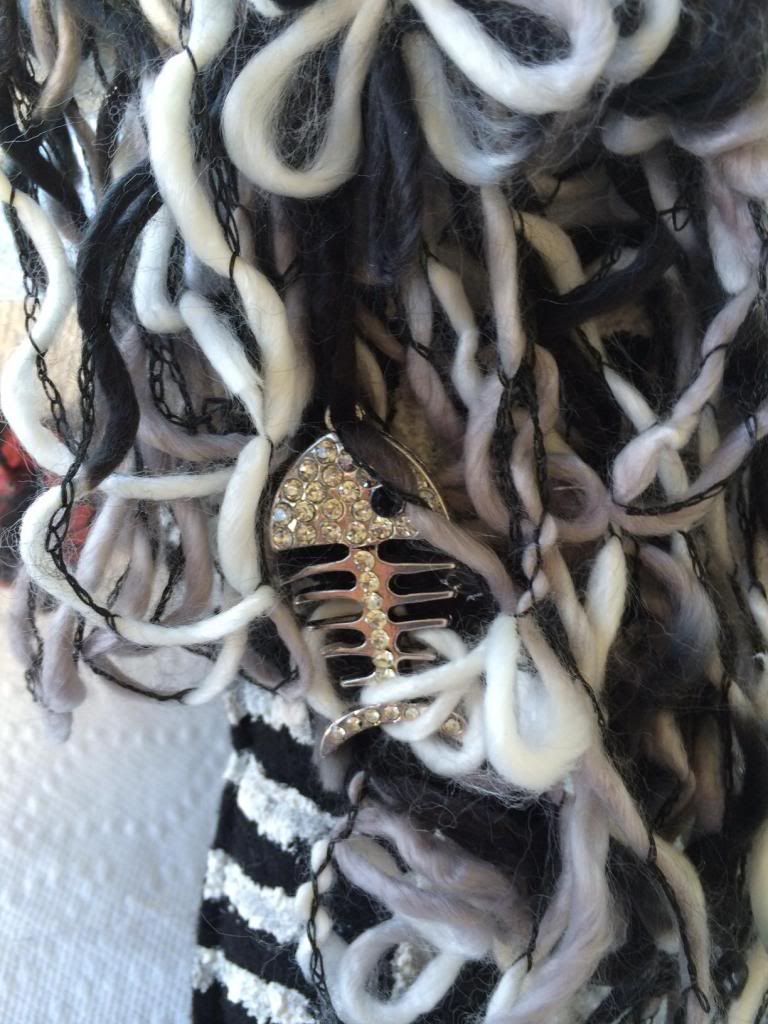 She is even a little bit blinged-out, with a jeweled fishbone stuck in her hair.