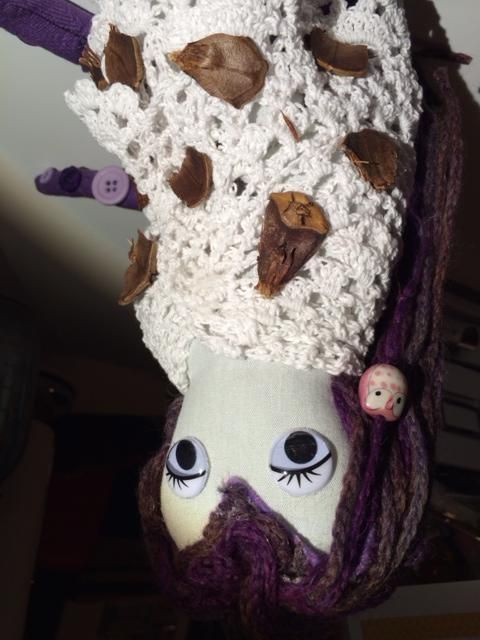 Last month, I participated in the inaugural Loyal Mutant Swap, in which we were given an ingredient/part list by our partner, and tasked with incorporating two (or more) items from the list into a heretofore undiscovered "mutant". My partner Annchen had a lot of delicate and "pretty" elements on her list, which allowed me to craft what I consider to be a "pretty" mutant.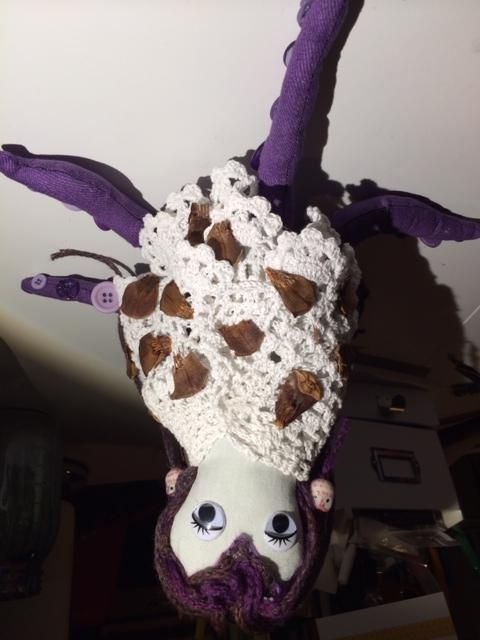 The items I chose to incorporate from my partner's list were:
tentacles
buttons
lace knitting
shawls
pinecones
yarn
owls
My partner is a HUGE yarnie, and while she did not list any colors on her ingredient list, my investigation of her Pinterest revealed that she definitely seems to favor the color purple, so I used that as my inspiration for the color palette. Similar to my previous doll (the Zombie Mermaid), I created a yarn "wig" by cutting out a teardrop-shaped piece of felt and hot glueing yarn strands of various length. It was a little more challenging this time, though, since the yarn was thinner and I was trying to go for a "prettier" look. I had to double over a lot of the yarn strands and do a lot of layering in order to get the hair to not look so flat.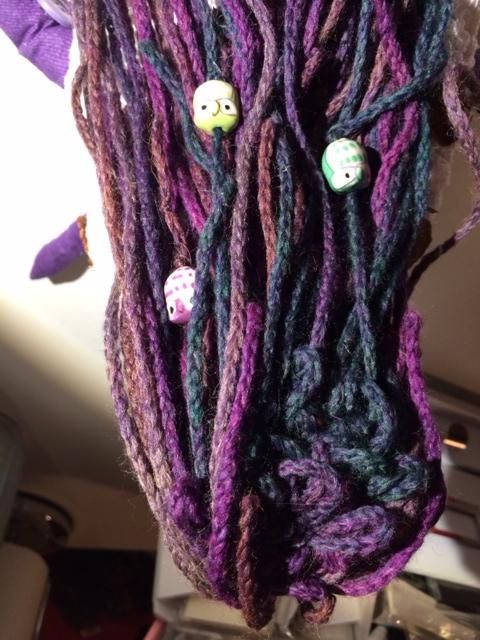 By far, my favorite element was the tentacles. I quickly traced out vague tentacles shapes on the fabric, sewed them right sides together and turned them inside out. After stuffing them with polyfill, I hot glued them together to my store-bought cloth doll base (which I just cut the legs off of). Since I didn't create a pattern/template for the tentacles, they ended up having wildly different sizes, so next time I'll remedy that. I absolutely loved the effect of the different buttons as suction cups on the tentacles.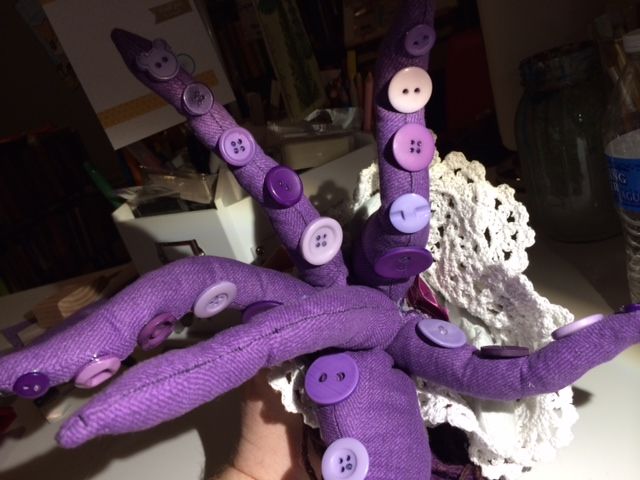 Even after I finished crafting, I did not exactly know what she "was", but our knowledgeable Organizer quickly identified a genetic similarity to the (in)famous Pacific Northwest Tree Octopus. It was ultimately determined that she serves as a kind of Guardian Forest Spirit, hence her being dubbed the "Tree Octopus Guardian".
I have to say, I would have *never* imagined myself making dolls before joining Craftster. But now, I've had the opportunity to make them for two different swaps, and they are some of my favorite projects I've worked on! I love how swaps have a way of pushing me into experimenting with mediums, techniques, materials and inspirations that I would never have gravitated towards on my own.