I finished knitting this sweater about two months ago, but the pictures I took back then weren't all that amazing (I was wearing a white top underneath, it was showing!) and after our holidays, I forgot to post it! I made my husband take new pictures today, so I can finally share this sweater. After about six months of on and off knitting (had to put it on hold because of wrist/elbow pain several times) I finally finished this sweater. It's the third garment I've ever knitted: my first sweater turned out too large, so I gifted it to a friend, and I knit a baby cardigan for my god daughter. (Nice thing with knitting for babies: usually they'll grown into the clothes, even if your gauge is off).
Since I really wanted to make sure that this time around, my sweater would fit
me
and not somebody else, I took great care with the swatching, measuring and conversions. And I had to do plenty of conversions! My measurements corresponded to XL hips, L waist, XXL-3XL bosom, S shoulders.
I also altered the pattern for knitting in the round, and I used
this technique
to knit set-in sleeves from the top down. I really don't like stitching things together!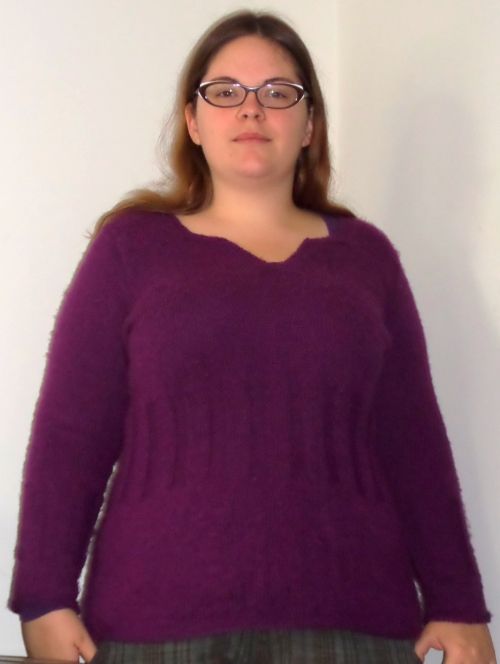 I still feel like the sweater is a tad loose in the back, but it fits nicely
I might knit it again, in cotton rather than acrylic. I was absolutely surprised by how warm the sweater is, despite it being a thin knit with fine yarn. It just feels so much warmer than machine knit, incredible!
Anyway, autumn is clearly fast approaching, so I'll be getting good use from it soon!